Order before 6pm for next day delivery.
2.25 litres | equiv. £11.66 per bottle | Dry, pale rosé
Stays fresh for 6 weeks from opening. Sits perfectly in your fridge. Each box holds 2.25l (3 bottles).
Syrah, Grenache and Mourvèdre | 12.5% ABV | Vegan
For your Lot #9: Rosé we wanted to discover a small producer, with a story to tell. When we met winemaking mother and daughter Anne-Marie and Camille Bagnis, we knew we'd struck pink.
Nestled amongst olive groves, lavender fields and acres of forest, Château Constantin was the perfect spot for the Bagnis family to follow their dream of making wine.
This pale pink rosé is quintessentially Provençal... All delicate redcurrants and strawberries with a dash of mouthwatering acidity. The perfect pairing with seafood and sunset.
Mother and daughter team Anne-Marie and Camille Bagnis arrived from Marseille in 2017. They aren't from a winemaking dynasty, but they rolled up their sleeves and set to work restoring the eighteenth century chateau, nurturing the vines to tip top health.
Their wines are usually sold at the cellar door or in local restaurants. But we convinced them to set aside their delicious Syrah, Grenache and Mourvèdre for Laylo customers.
The Provence countryside has inspired artists for centuries. Van Gogh, Matisse and Picasso all lived in the region, capturing its "painter's light" in broad, pastel-hued strokes.
The design of your Lot #9: Luberon Rosé is based on a discarded paint palette, whose owner was painting the lavender fields at dusk. It's a nod to the rich history of painting in Provence and a celebration of creativity.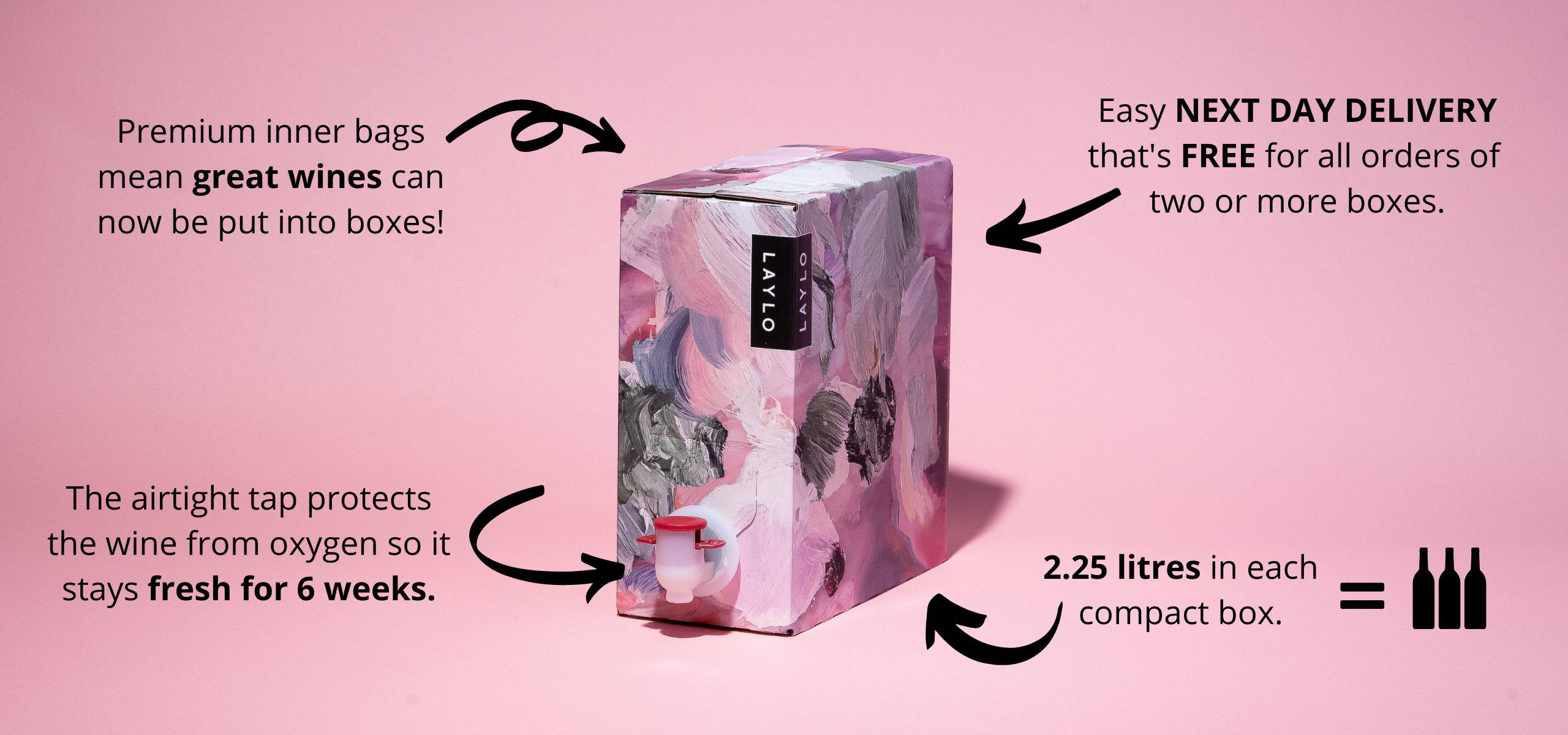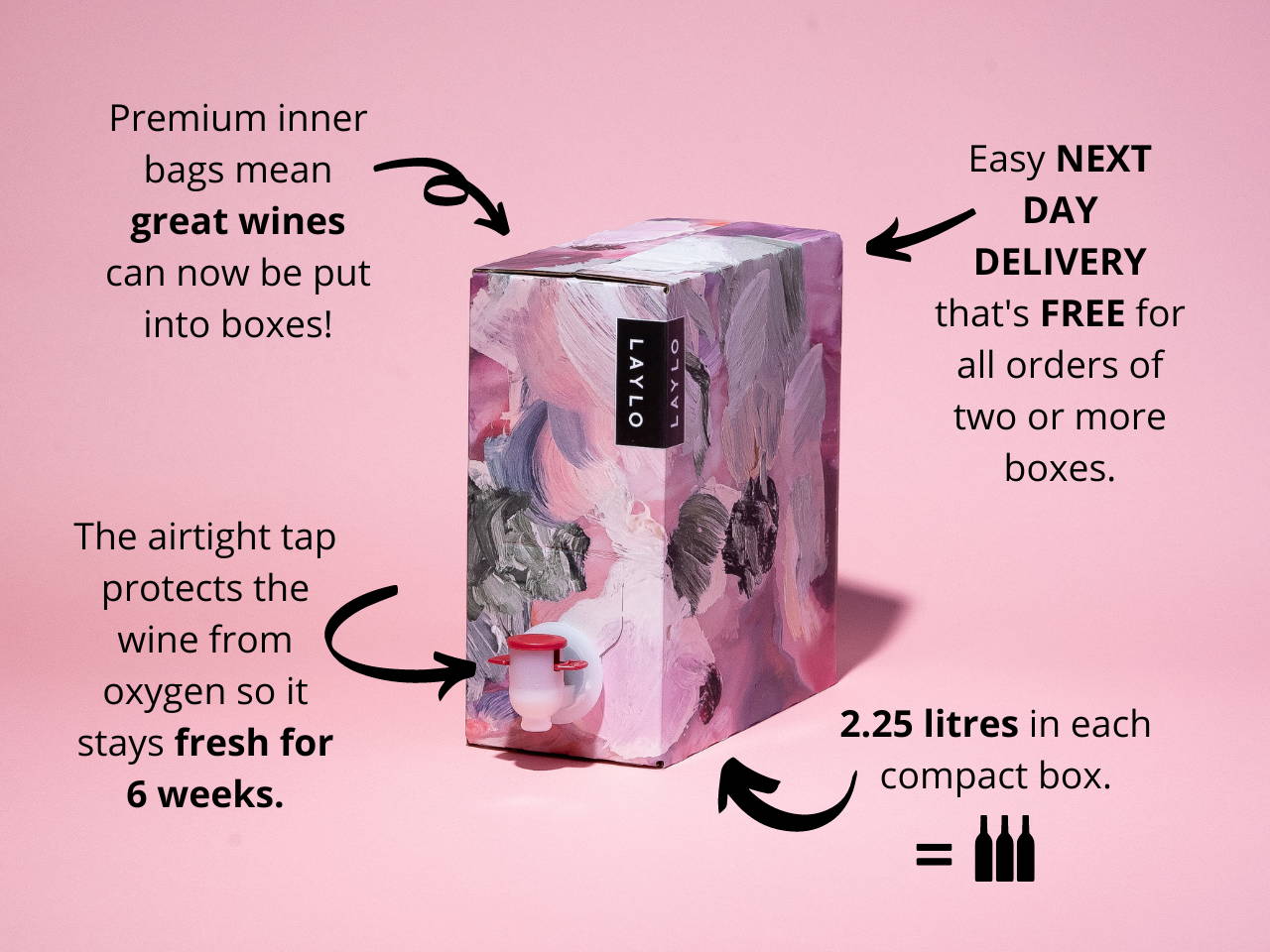 What customers are saying

★★★★★ 4.8 Rated Excellent on Trustpilot
James M
Some of the best wine I've drunk in recent years. Add to this the fact that it stays fresh for 6 weeks and it's a winning combination.
Nat
I used to throw away so many half empty bottles of wine so this is perfect!
Rhona M
The wine itself was lovely. The boxes were beautiful and were a great size for fitting neatly in the fridge.
Caroline S
We prefer different ones, but it's not an issue to order one of each and have our glass of our choice when we want to!
Stefanie S
Great wine. Nuff said.
Claire
Love everything about this company, delicious wine, more ethical way of buying wine, good looking box.
Rebecca
Delivery was quick, everyone really enjoyed the wine and it was good value too. Much easier than packing bottles for our holiday!
Patrick S
Delicious wine, and just unbelievably useful to be able to pour it by the glass whenever you want. Looks beautiful too.
Tom
Really good wine. Delivered quickly. Looks good on the kitchen side too!
Genuinely great wine. Yes, really.

Enjoy wine without having to finish a bottle with our airtight tap

Award winning box designs
Beautiful boxes you'd be proud to have on your countertop

Avoid overwhelm with an expert-selected range of crowd pleasing styles

An easy sustainable swap to cut CO2 by 90% vs glass bottles