Order before 6pm for next day delivery.
2.25 litres | equiv. £11.33 per bottle | Dry, pale rosé
Grenache | 12% ABV | Vegan | 2.25 litres = 3 bottles | £11.33 per bottle
This rosé could only be from the South of France. Made from Grenache grapes harvested in the cool of the night, it's all strawberries and cream with a refreshing, delicate finish.

We tasted lots of different samples, but this wine stood out from the rest. It has all the hallmarks of a great quality rosé, while also not being too serious. Just as it should be.
Give your glass a swirl to release the wine's delicate perfume (while also taking a moment to admire the gorgeous salmon pink colour!). You'll enjoy strawberries, raspberries and cream.
When you take a sip, expect a burst of red fruit flavours on your tongue followed by a refreshing, zesty sweet lemon-like finish.
This Provence-style rose was created from 100% grenache grapes, grown in the Luberon mountains. Here the vines soak up the Southern French sunshine, while the high altitude keeps the grapes cool enough to preserve their delicate, red fruit flavours.
The winery itself is situated in the UNESCO recognised Luberon National Park. Imagine a patchwork of vineyards punctuated by lavender fields, olive groves and cherry trees.
The design of your Lot #4: Rosé Méditerranée evokes the timeless glamour of the French Riviera. It's inspired by a dusky pink vintage scarf, with unashamedly glitzy gold detailing that wouldn't look out of place on the red carpet at Cannes.
The roses in the design reflect the floral, fresh wine inside. And if you look closely, you'll spot golden suns and crescent moons… A nod to the Grenache grapes ripened by the Mediterranean sunshine, then harvested under moonlight to preserve their crisp elegance.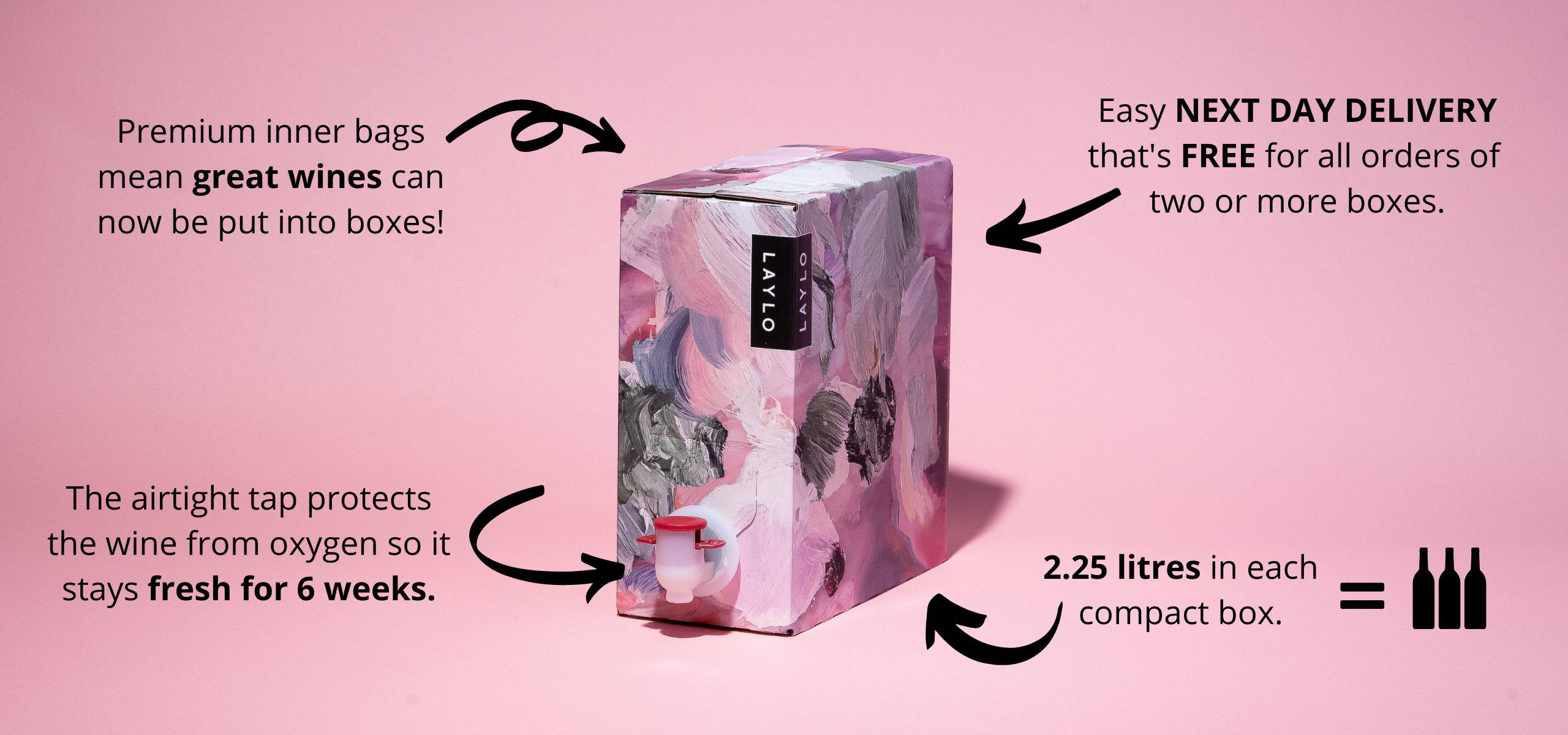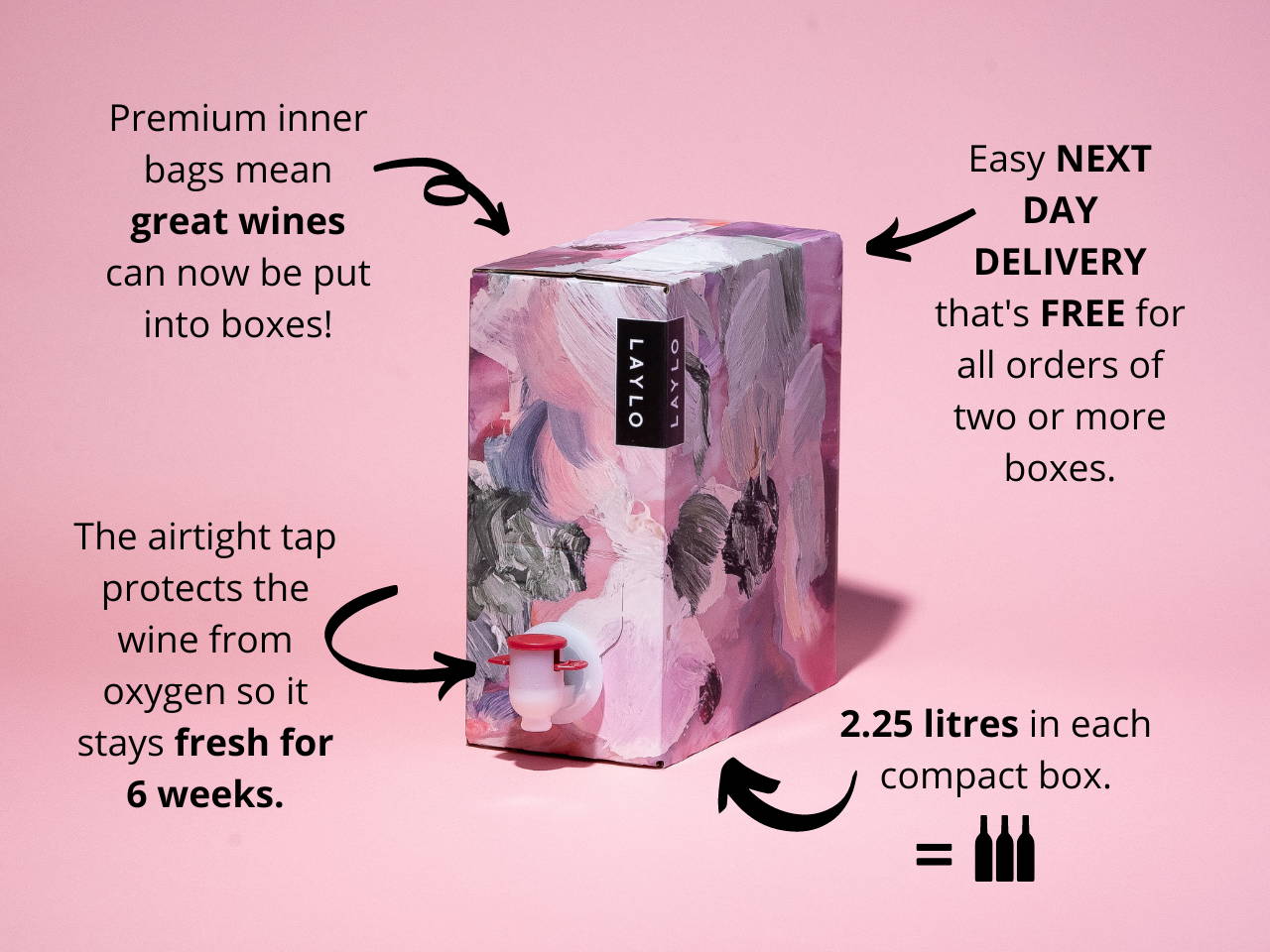 What customers are saying

★★★★★ 4.8 Rated Excellent on Trustpilot
James M
Some of the best wine I've drunk in recent years. Add to this the fact that it stays fresh for 6 weeks and it's a winning combination.
Nat
I used to throw away so many half empty bottles of wine so this is perfect!
Rhona M
The wine itself was lovely. The boxes were beautiful and were a great size for fitting neatly in the fridge.
Caroline S
We prefer different ones, but it's not an issue to order one of each and have our glass of our choice when we want to!
Stefanie S
Great wine. Nuff said.
Claire
Love everything about this company, delicious wine, more ethical way of buying wine, good looking box.
Rebecca
Delivery was quick, everyone really enjoyed the wine and it was good value too. Much easier than packing bottles for our holiday!
Patrick S
Delicious wine, and just unbelievably useful to be able to pour it by the glass whenever you want. Looks beautiful too.
Tom
Really good wine. Delivered quickly. Looks good on the kitchen side too!
Genuinely great wine. Yes, really.

Enjoy wine without having to finish a bottle with our airtight tap

Award winning box designs
Beautiful boxes you'd be proud to have on your countertop

Avoid overwhelm with an expert-selected range of crowd pleasing styles

An easy sustainable swap to cut CO2 by 90% vs glass bottles